Clan Coins are the type if currency which can be used to buy items from clan store. And Good things is you don't need to spend real time to get these coins. But you must join a clan to get clan coins. There are serval ways to get more clan coins. Let's discuss all of them.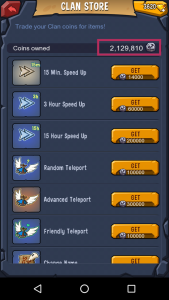 Where to Get Clan Coins?
Help ClanMates: If your classmate in their development there is option in you screen clan help with you can earn up to 10000 clan coins daily by helping your friends.
Clan Quest: Completing Clan quest will give you Clan coins, Exp and resource too. Tab on Workshop building to open it.
Temple War: During Temple war also you can get clan coins it will based upon the score you get during temple war
Wolves Event: During Wolves event you can get huge clan coin so don't miss out that Event. Its occur once in a week for 8 hours and you can get.