Hello Cheif, Today we will Cover basic details of your profile. How you can check your stat, edit your name, avatar, outpost, etc. Basically, there is 2 type of Profile in Brutal Age. Let's discuss first your information profile.
[toc]
Information Profile
You can access your information profile by clicking your Power stat in Red Rectangle. There you can See your Power, Kills, Achievements, top 6 partners and current rune Set and other stat that you archive in game. This profile will display to all user who clicks on your profile. In this profile, you can't edit anything as it shows only your profile.
Now most us want to know that how to change name and avatar frame or outpost decoration. Don't worry all you can do in your main profile page.
Main Profile Guide
You can access mail profile by clicking on the top left corner where your avatar is showing. After that, you will see your Profile Main page.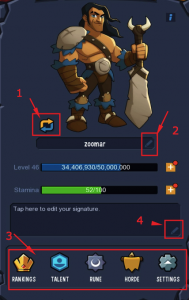 Now let talk about each section in your Profile. Follow Image to check Section Number.
Section 1  – Appearance Section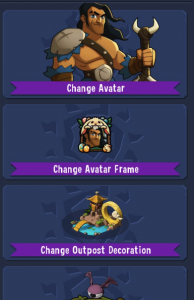 This section will solve your question like
"How to change Avatar"
"How to Change Frame"
"How to Change Outpost decoration"
"How to Change Scout"
"Achivement Icon"
"Change Country Flag"
Avatar:  You can Set your Facebook Profile as Avatar or Choose from Given by Brutal Age
Avatar Frame: Unlock More avatar frame from special events and Totem tournament.
Outpost Decoration: Outpost decoration can be Obtained from "Ultimate Battle" Event and Special Festival events.
Scout: There is some premium scout that you can obtain only from special events.
Achievement Icon: You can set one default achievement icon from your list and that will be displayed above your outpost in Map.
Country Flag: You can set your country flag. There is nothing to discuss here.
Section 2 – Name Edit 
You can Edit Name if you have edit name item that you will from doing some activities in the game. There is no limit to change your name as long as you have that name edit item.
Section 3 
This section covers many things. First Ranking you can check ranking by player power, clan, horde, partner, kill etc. 2nd option to set your talent point. and 3rd is to set runes. 4th is to change Horde, and last setting option has many inner options that we will cover in the separate article.
Section 4 : Signature
Here you can change your signature that will be shown to other users when they click on your profile.
Section 5 – Bonus Check
Forgot to mention in the image. you can see on the top right side there is an "i" icon. When you click on that you can check all the bonus that you currently have. like your gathering speed, production speed, attack, construction speed research speed etc.
Other – Level and Stamina
The level section you can see your level when clear each level you get some reward in terms of resources. you need a certain amount to XP to reach next level. XP you can earn from many activities. You can also buy XP.
Stamina: Stamina helps to kill the monsters. You can also buy Stamina and add it to your stamina by clicking + icon. you can also get many free stamina packets by killing monsters or other activities.