After winning server war, System drops golden color chests on the map which contains resources. But we it doesn't display whats resources inside the chest. you need to hit that chest that cost 20 stamina to check what resources inside. so you will waste your stamina if the required resource is not inside that chest. But In this blog, I will tell you a trick where you don't need to hit that chest and you will know what's in any particular chest.
When we attack/hit chest the troops are Preselected randomly. then you should click on the quick select button that will auto select your number of troops that is needed to collect RSS. Now based on that we can analyze that what RSS can be inside the chest.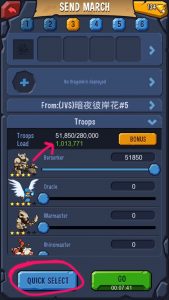 In the above image, you can see it is showing 1m load after quick select. and this the troop load need to level 6 ivory. Similarly, if troops load is more than 2m then it's a meat resource.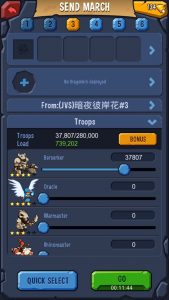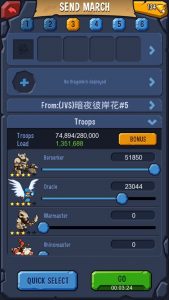 Stone and wood will have similar troops load that will be in between 1.3m-1.4m. and for mana, it is around 700k-800k.
Summary
| Resource Type | Troops Load (Approx) |
| --- | --- |
| Meat | ~2m-2.1m |
| Wood/Stone | ~1.3m-1.4m |
| Ivory | ~1m-1.1m |
| Mana | ~700k-800k |
Read Also – How to Rank 1 in Clean up Event