Artifact is a special kind of partner equipment that can enhance your partner skill just like war pattern but the effect is not as great as war pattern. Also, artifacts can provide special artifact skills too. In this basic guide, we will discuss basic of artifacts system like when it will open and what are the effects it provides and how to wear it on a partner.
[toc]
System Unlocked Requirement
you need to clear adventure stage 8-7 to unlock the artifact system. and once unlocked you can open the artifacts warehouse from the left corner in your screen.
How to Equip Artifact on a partner?
you can equip artifact on partner details interface. check below image for reference. But you can only equip on 5 or more star partners.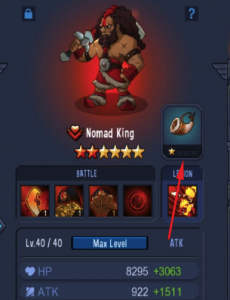 once you equip an artifact on the partner you will get some bonus stats and artifacts special skill on that partner.
What is Artifact Overall Effects
Once you own some artifacts you can enjoy some overall combined bonus effects.
How to Summon an Artifacts
you need a specific partner crystal to summon artifacts. and also there is a limit to summon an artifact of the same type once the number reached the max limit you can't summon more same type of artifacts.
Note: Some Artifacts require players to own appointed Partners before the summons. "Own" means you should have that partner once. currently, 2 artifacts (brutal horn and brutal seal ) doesn't require any appointed partner but another 2 (unity book and thera's necklace) requires Colonel and GOE respectively.
How to Get Advance Crystal?
you can reclaim 4-star partner to get advance partner crystal or buy from packs. Also, you can get from events too that will occur oceanically.
How to Upgrade Artifacts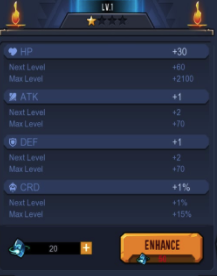 To upgrade artifacts you need normal partner crystal. once a level upgrades your stat bonus will be increased.
Note: upgrade doesn't guarantee 100% success rate.
How to get Normal partner crystal?
you can reclaim 3-star partner to get normal partner crystal or buy from packs.
Increase Artifacts Stars
Enhance the star rating of the artifact, you can make your artifact skills more powerful, and some artifacts can also provide an overall bonus.
There are 2 ways for the artifact to rise:
Consumption of specific Crystal to enhance the star rating.
Consumption of specific "partners" to enhance the star rating (some artifacts limited).
Partner Recycling
After the partners reclaim, they can provide a variety of "Partners Crystal", which can be used to increase star and upgrade the artifacts.
There are 2 ways to recycle partners:
Partner list interface, click the "💰" button in the upper left corner of the screen.

The artifact is enhanced and the interface is upgraded. When the "Partner Crystallization" is insufficient. The recycling interface is automatically popped up.
Can you Remove Artifacts on partner once equip?
yes, you can remove or replace artifacts on a partner but it requires a small amount of soul to remove an artifact from the partner. But if you use a partner as material to evolve and there is an artifact on it then it will automatically remove at no cost.