Hi Chief, I did a small experiment on a new server that how fast I can get T2 with no money. and it took just less than 5 hours to get all of my T2 Troops research. I Joined server 417 and at the time I joined there were only 3 people in the whole server lol. I Joined in Blue Horde to get 5% research time reduction.
After Joining a server,  I need a clan so that I can get the benefit of clan help and clan relic but there was no clan as it needs 1000 gold to create a new server. So, I decided to create a clan.
I bought only one pack that cost $0.99 to me. From that, I got some research speedups and normal speeds.
Why I bought $0.99 pack?
Because I need to make a clan and I didn't have 1000 Coin. Also, I got Some research speedups
What needed for T2

Approx 3 days speed up and 500k mana For Training speed level 5 and All T2.
I am not counting woods, meat, and stone as you will get enough in your bag to make t2.
Building Needed
Temple of wisdom must be Level 8 so you need to make your stronghold level 8. upgrade buildings those needed for Stronghold to save your time. let me tell you exactly which you need with level.
Outpost portal keep upgrading till level 8 it needs with every SH level
Temple for Wisdom keep upgrading till level 8
War Hut Level 5 (For SH 5)
Healding Well level 6 (For SH 6)
You can Plan earlier that which building needed to upgrade next SH level.
I didn't Spend any of my universal speed up to upgrade buildings or Troops training. As I know that I will need in t2.
and I Started Gathering for Mana as soon as I entered in game. i had very less troops as I didn't use speedups to train more but I able to gather some around 30k before SH level 8.
Everything was ready when I reach SH level 8 and I Got some more speedups with Build Event.
But I had only 120k mana because I exchange an speed up item from Shop. (That Was 3 Hour Speed up in exchange of 150k Mana :D).
I needed 20k Mana for my first t2 so I Borrowed from a clan member he sent me 50k 😀 .  Once I done with my first research I got some 100k mana As reward so next T2 was easy for me.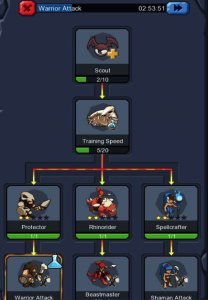 So this is how I Got all my T2 in Just 2 Hours.
These are the points you should follow if you want to get your T2 ASAP
Don't use universal speedup for Building
Join Fully Active Clan so that you can get Clan Help to decrease your building timing.
Pickup Clan Relic
Don't Attack Anyone Just Gather Mana
Get Resources Help from Clan Member If possible.
If You follow these things you can get T2 even more faster.
I am working on T3 on that Server without spending any money. will update you soon About that too.